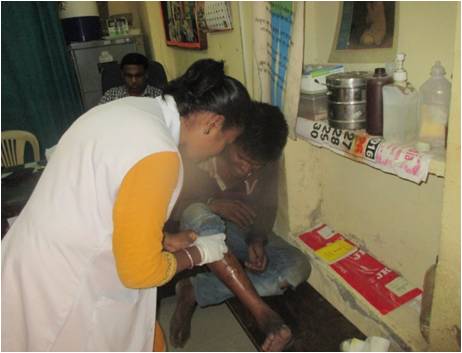 Rakesh is an 18 year old boy staying with his mother and 2 younger brothers near the Sadar Bazar area in Delhi. He is staying there with them since last 6 years, on rent. After the death of his father, a few years back, his mother started working in a Bangles factory near his locality. Rakesh on the other hand, sells Pan Masala, Gutkha etc. in the local trains which are connected to Delhi NCR. He says he is able to earn Rs. 200-300 from his 10-12 hours of work. He has studied up to class 4th in a Government School in Delhi and after that he didn't continue due to his father's growning illness.
Rakesh every day starts his work from 8 am onwards along with his other companions. After getting the required material from the store first, he comes to New Delhi Railway Station and starts selling in trains which are connected to Delhi - Faridabad routes; and he moves from train to train selling Pan Masala, Gutkha etc. He is doing the same work since last 4 years.
One day while getting down from a running train to catch another train at New Delhi Railway Station, he suddenly lost balance and fell on the railway platform. He got injured badly and was bleeding due to the cut and scratches. There were some people and other street kids who helped him to reach the Don Bosco Health Centre. At the centre he met Dr. Sachin and Nurse Sr. Mary. He explained everything about the incident. Nurse Sr. Mary cleaned his cut and did the proper dressing as it was needed. He also received some medicine to get relief from the pain.
After the receiving treatment for a week from the Don Bosco Health Centre, he was feeling very good. He also expressed his gratitude towards the staff members of the Don Bosco Medical Team and the people helped him to reach at the Medical Centre. He also motivated other children to come to this health centre for medical assistance.