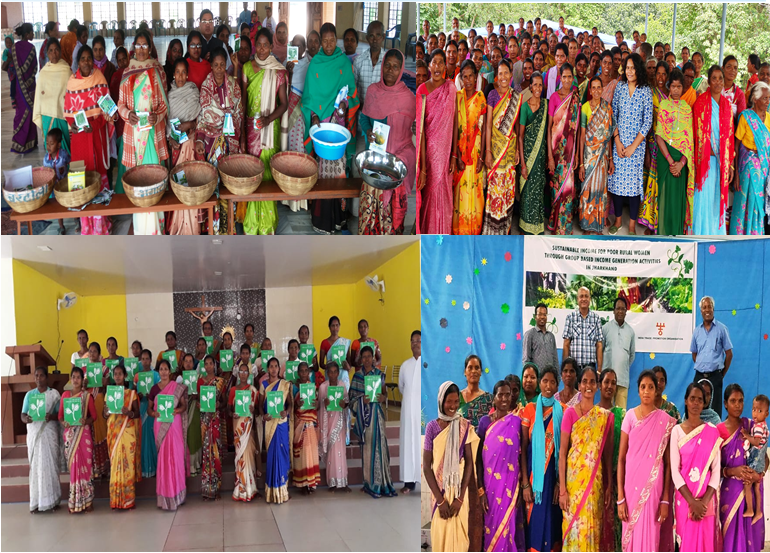 Organic Kitchen Garden
2018-2019- Jharkhand & Chhattisgarh
The Organic Kitchen Garden (OKG) and Micro-Business Project mobilize people for self-reliant action, empowering women as key agents of change and to engage with SHGs through comprehensive strategies. OKG aims to prepare women to step forth as leaders and participate in capacity-building activities such us, group dynamic and leadership program, finance management, credit linkage, micro-business and follow up with various workshops.
Currently, OKG supports more than 2100 women in two states of Jharkhand & Chhattisgarh and it works in eight centers of Don Bosco namely, Bichna, Garigaon, Rurungkocha, Gumla, Kereng, Kolebira, Jumaikela, and Jokbahla.
OKG is a project that elevates one's life and transforms the world by growing own fresh fruits, vegetables and herbs without any toxic chemicals or synthetic fertilizers and pesticides. It helps in replacing manmade chemicals with those derived from the natural source. It also contributes to cultivate an ecosystem that sustains and nourishes plants, soil microbes and beneficial insects rather than simply making plants. OKG is a place, mostly within the premises of the house, where plants, trees, and creepers that supply vegetables, fruits, and other edible items are grown, primarily for the consumption of the household members.